What makes the Marvel Cinematic Universe as popular as it is comes down to its heroes. In just about all their films, the lead protagonist is a likable figure with a solid backstory and arc behind them. The newest hero, Shang-Chi, is no exception. However, a good hero is nothing without a good film behind them. Thankfully, Shang-Chi and the Legend of the 10 Rings is another solid entry from Marvel Studios. Boasting exciting action and complex family drama, it's an entertaining film, blending martial arts with a strong story about legacy and parental cycles.
The Strengths of Battle
The major hook for Shang-Chi comes from its kung fu fights. While fantasy and computer effects are still prominent, this is first and foremost a send-up to Jackie Chan titles like Police Story or Drunken Master. So much so, the late Brad Allan, who worked with Chan in Hong Kong for years, was the second unit director. And it clearly shows.
The action, especially the opening bus battle, is tight, fast-paced, and well-shot. Rather than using quick cuts and shaky cam to hide the stunt work, it's on full display here. Every punch is felt, gripping viewers into the action. All the while, star Simu Liu brings tenacity and humor, giving humanity and depth to the fight scenes. Of course, it's not perfect. There are still a few too many unneeded edits, it's definitely what people will remember coming out of the film. It's also a breath of fresh air after Mortal Kombat failed to deliver earlier this year.
The action does loosen a bit once the third act arrives, with more fantastical elements thrown in. But even so, these moments are stylized, exciting, and builds off each moment very well. Not just from a direction standpoint, but also from a character perspective. It's very clear director Destin Daniel Cretton and Brad Allan had a lot of fun working on these moments.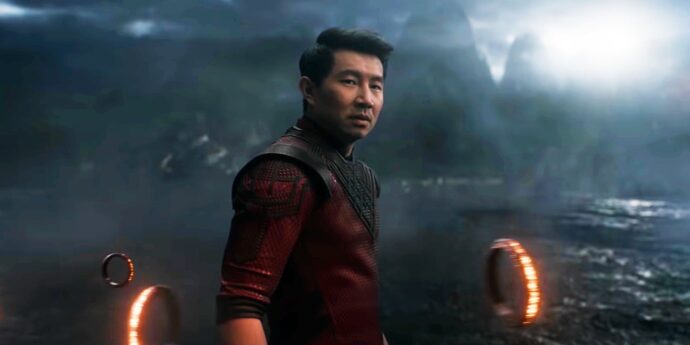 You Are Your Father
What also helps Shang-Chi stand out is the main familial conflict. Shang-Chi, performed by Simu Liu, is roped into battling against his father Wenwu, played by Tony Leung. The film looks at their conflicting relationship, going back to the death of Shang-Chi's mother, and how that loss tore them apart. It's certainly an emotional story to say the least and it works quite well. It's easy to get invested into their story, thanks to both actors and how the film uses the tension to drive every aspect of the film. The battles between these two have a lot of weight to them, as the movie unravels their trauma and conflict. All of this, again, leads to a fiery climax and a strong overall theme of legacy.
We are who our parents mold us as. This idea is the entire premise of the film, showing the positives and negatives of a parent-child relationship. Shang-Chi ran away from his past to start a new life, but sadly that is an easier said than done task. The movie posits the idea that while you cannot remove who your parents are, there is still the chance to create your own identity and person, while also maintaining the positive values of those before you. It's a mature message that is handled with dignity and weight behind it, making it one of the most engaging aspects of the film.
The Supports Carry
While Simu Liu does well as the title character, he surrounds himself with a strong repertoire of cast members that truly give the film life. Tony Leung in particular is the standout of the film. Wenwu isn't just a generic villain. Rather, there's an undercurrent of sadness with his character. There's clear motivations why he is so strict towards his children, yet these reasons are brutal and honest and rather depressing. This leads to a lot of depth and a strong backbone for the action and story beats.
Other standouts include Meng'er Zhang as Shang-Chi's sister Xialing, Michelle Yeoh as Aunt Jiang Nian, and especially Awkwafina as the love interest Katy, who bring personality and further dimension to the film, resulting in a well-rounded piece of filmmaking and storytelling.
To Sum Up…
At this point, producer Kevin Feige knows what his audience wants. They love Marvel movies for their action, comedy, and especially characters. Shang-Chi does little to innovate, but succeeds as a crowdpleasing adventure nonetheless. All the elements are in place and the film is enjoyable for all the attributes mentioned previously. However, I can only hope a potential sequel will have Cretton and company be more ambitious and daring.
Read more of my reviews on the latest releases here