Fred Hampton's story is a tragic one. One of the many Black activists of the 1960s, Hampton founded the Rainbow Coalition, brought the Black Panther to life in Illinois, and continued the battle for civil rights we still face today. Yet sadly, his life was taken by the FBI, fearful over the idea of antiracism. It is one of many stories that show how the United States government is a cruel beast to minorities and the oppressed everywhere.
Decades later, Hampton's life is finally dramatized by Shaka King in his first major motion picture. With just this movie, it's obvious King is a director to look out for. He gives the story of Fred Hampton weight, gravitas, and poignancy. Not just through the incredible ensemble cast, but also through so many tense, emotional sequences. Judas and the Black Messiah's story doesn't totally work, but so many moments are heartfelt, angry, yet always passionate. It's a very strong telling of this story and it's clear we're on the verge of something great in the next few years.
Acting with a Capital "A"
If there's one thing most will agree works best here, it's certainly the cast. Every single actor is absolutely fantastic, with the best easily being Daniel Kaluuya as Fred Hampton. As chairman of Illinois' Black Panther chapter, Kaluuya nails the speeches and monologues. He brings so much gravitas to every word, knows just what is right to say, and has the perfect inflections for each moment. But outside of that, Kaluuya exudes confidence, grace, and power in every scene he's in. There's a commanding presence to him, but also a sincerity and kindness that makes him endearing. His interactions with his girlfriend Deborah, played by Dominique Fishback, are some of my favorite moments of the piece.
The rest of the supporting cast is also aces. As said before, Fishback is fantastic in every scene she's in, serving as the emotional core of the story. At the same time, Lakeith Stanfield's Bill O'Neal, the man recruited by the FBI to take down Fred, serves well as an audience surrogate. The remaining Black Panther members, played by Ashton Sanders, Darell Britt-Gibson, Algee Smith, and Jermaine Fowler, also bring in plenty of personality to the piece, and all deliver standout moments, even if they do feel a touch crammed into the narrative.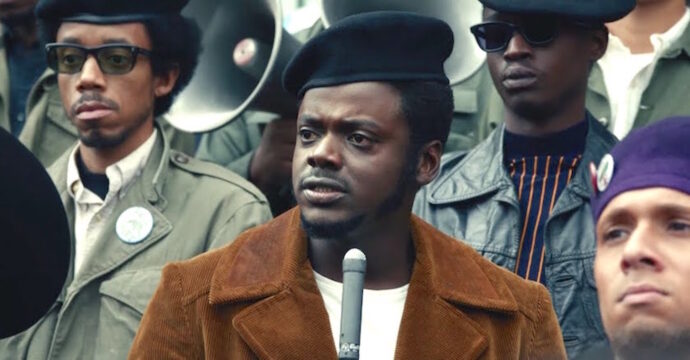 The Brilliance of Hampton
King's screenplay, co-written by Will Berson, is full of subplots and storylines. It's a necessary one, detailing the importance of the other members of the Illinois chapter. Yet it feels as if some stories are stronger than others. Fred Hampton's story is consistently strong. Every moment he is on screen is powerful, and when the supporting cast focuses on his legacy, it really showcases his values and intrigue. It's clear what King had the most interest in.
The film also dives into other figures, real and fictional. And while none of them are bad, they fail to be as exciting or engaging. William O'Neal's story is fine enough, and Lakeith Stanfield is great here. Yet despite all the screentime, he's nowhere near as interesting or compelling of a figure. And while his conclusion is a strong one, it doesn't feel like the gutpunch as intended.
Other subplots, like Ashton Sanders' fictional Jimmy Palmer are also good, but they just feel tacked on to the story itself. This isn't to say the film doesn't screech to a halt when Hampton isn't around. There's still plenty to enjoy and be enthralled by. Yet with a few more punches to the script, it could have been something really exciting and really strong.
To Sum Up…
As a Fred Hampton story, Judas and the Black Messiah passes with flying colors. Daniel Kaluuya is incredible in every scene he's in and everything about his story is brought to life beautifully. But as a film that tackles a unique period for the Black Panthers? It's certainly very, very strong, but it could have been more engaging and tighter. And in turn, make this truly masterful. But as is, Judas and the Black Messiah is a very strong, very well-made feature that should lead to great things for all parties.
Read more of my reviews here