This is part 2 of a series titled The French Connection. This series looks at French art and culture introduced to Philadelphia. Through analyzing the art itself, its significance to France, and even its potential crossover with Philly culture, this will be an exploration on how French art can truly impact and engage U.S. viewers.
Within the past few weeks, Portrait of a Lady on Fire has garnered significant press. The film saw acclaim at Cannes, and it was considered a shock the film did not appear on the Academy's shortlist for International Feature Film. However, when the film's star Adele Haenel left the Cesar Awards upon famous pedophile Roman Polanski's win, a resurgence of popularity arrived.
With its considerable hype, it's wonderful to see the film delivers. Detailing the budding romance between two 18th century women, aristocrat Heloise and artist Marianne, this film is something truly special. Thanks to its fantastic acting and gorgeous presentation, it's no surprise it has such a strong following.
A True Living Painting
Easily the best thing about this film is its presentation. The film takes place in the year 1760. As a result, director Celine Sciamma gets to take full advantage in her staging and lighting. Candlelit rooms and fireplaces glow the house at night, reflecting on the faces of its denizens. The silent crackles endure through the mansion, as the characters talk or play a game. It allows so much personality to shine through the film itself, and allow for constant beauty in every scene.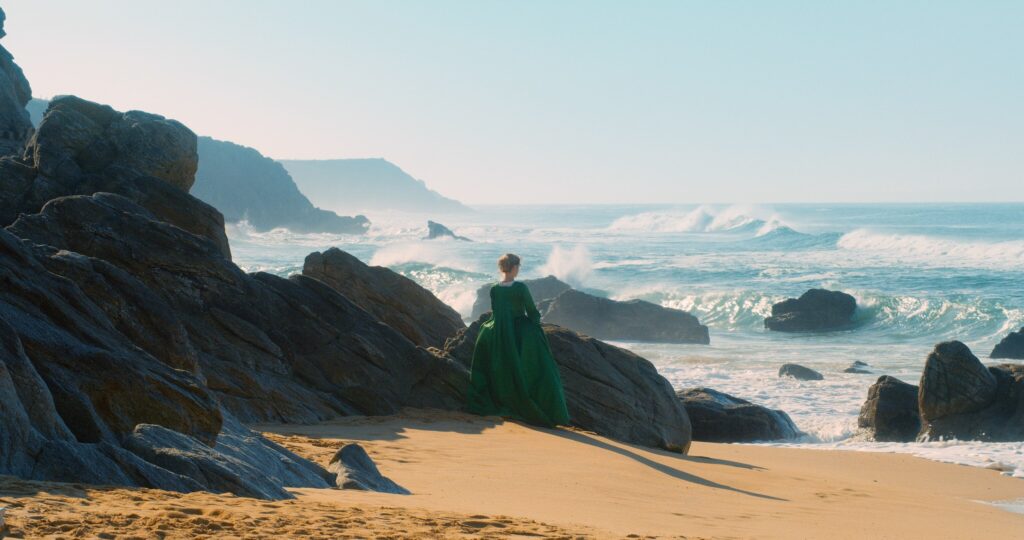 The blocking of its actors is especially impressive. The way Marianne and Heloise are positioned is purposeful, adding more to their relationship, their concerns, their confusion, and so much more. In a way, each shot feels like a painting come to life. The cinematography was a reference for artist Hélène Delmaire, who created the paintings and sketches throughout the movie, only further showing Sciamma's clear talent.
In addition, the production design is one of a kind. The seaside mansion allows so many opportunities for gorgeous scenery, especially the beach. But most importantly, it establishes the connection, the insecurities, and the growth of Marianne and Heloise, making their bond and romance all the more powerful.
The Artist and the Lady on Fire
The film is a true marvel because of its look, but its leading actresses make Sciamma's work all the more incredible. Noemie Merlant as the artist Marianne and Adele Hanenel as the aristocrat Heloise are pitch-perfect. Their dynamic and chemistry are great, and their characters are well-defined and unique. Both are free spirits, both breaking conventions for women in the 1700s.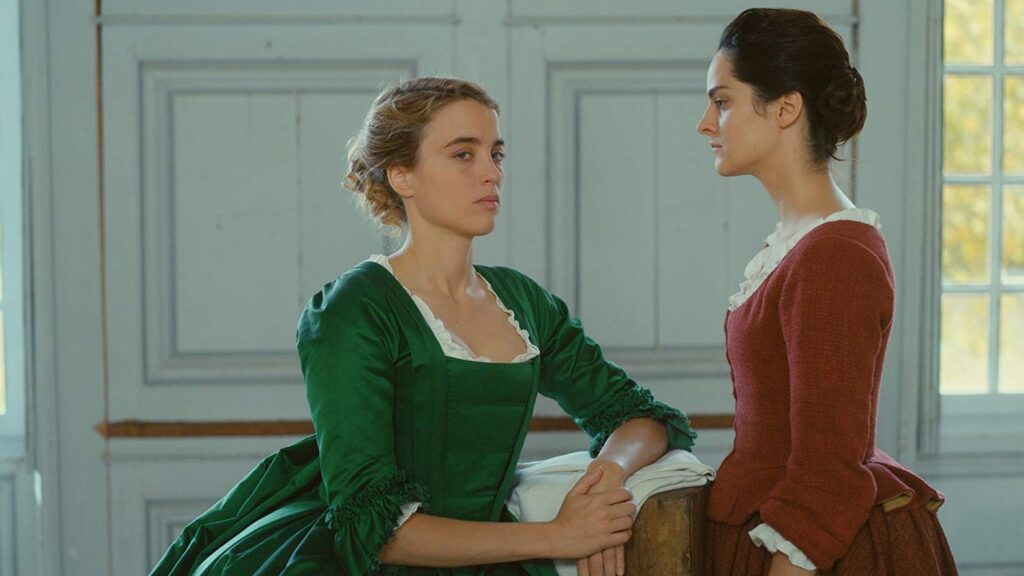 Marianne is an independent artist, while Heloise tries to fight against her future marriage's customs. The initial conflict has Marianne forced to paint Heloise in secrecy. And as their relationship grows, it only makes the artwork stronger. It's a brilliant progression that makes each moment feel potent and touching, and shows Sciamma's talents as a writer.
The French-US Connection
There's plenty to appreciate for all audiences in Portrait of a Lady on Fire. Its artistry, its subtle writing, its performances. But I feel as if the one aspect that makes it truly memorable, and something Philadelphians who stumble upon should appreciate is its feminist stances.
Men are almost nonexistent, and only four characters, all women, have any significance to the narrative. It's a conscious choice by Sciamma that allows the film to free itself from any male gaze. The women are free to enjoy themselves, express their true emotions, and enjoy each other's company. It creates a likable atmosphere, a joyous experience, and a tragic conclusion all at once.
It shows why women directors like Celine Sciamma are necessary. They are able to express such relationships and bring so much depth and majesty to them in a way that can resonate with everybody. It is a perfect showcase of womanhood that needs to be appreciated and promoted. And for French female artists, having U.S. fans makes their work even more popular and more celebrated.
To Sum Up…
Portrait of a Lady on Fire recently joined the Criterion Collection, and it is easy to see why. It's a gorgeous look at lesbian love in the 1700s, and a truly auteur work for Celine Sciamma. Her push towards a feminist look at women and their relationships, as well as the abolishing of the male gaze creates something wholly unique and beautiful. And alongside two incredible leads, it's no wonder this film has such a following.