Many long-time readers may remember, all the way back in 2020, that I reviewed all the Academy Award nominees for Best Animated Short Film. Well, the showcase is back and likely playing at a local arthouse theater near you. This time, we have a wide variety of shorts ranging from stop-motion to rotoscoping to traditional animation. And allow me to review them all for you.
An Ostrich Told Me the World is Fake and I Think I Believe It
This stop-motion short from Australia is a pretty odd tale. I'm sure you could deduce this from the title. A telemarketer is living a dull life trying to sell toasters, but soon finds himself face to face with a talking ostrich. And sure enough, the ostrich helps him realize the world is…fake. Nothing more than stop-motion creations controlled by a nefarious human hand.
Largely done by one person, the director Lachlan Pendragon, the idea is nothing new. These kinds of "world is not what it seems" has been done before with The Matrix and The Truman Show. Even The Boxtrolls, a stop-motion film from Laika, made a gag about characters being controlled by outside forces. However, this one is pretty fun. The cinematography is a unique one, showcasing the behind the scenes craft behind the central characters. It's a clever way to create a sense of uneasiness in this premise and show the hard work Pendragon put into the project.
It then dives into legit horror and suspense, while still incorporating some sly and surreal comedy. It doesn't quite stick the landing, as some of the final gags are a little clunky. But still, it offers some fun laughs and visual creativity.
The Flying Sailor
This is based off a true story believe it or not. In 1917, two ships collided in the Halifax Harbour. One of them carried tons of TNT, resulting in the largest accidental explosion in history. And sure enough, one sailor was blown skyward, flew 4 km, and was still alive and unharmed, but totally naked.
That sounds crazy, but it's a true story. But sadly, I didn't really care for this all too much. The concept is humorous, and the way the film looks at the fragility of life is compelling. But much of it results in long passages of surreal visuals that feel kind of overplayed when it comes to this concept and then ends on a real "oh, that's it?". It's far from awful and the art style is pretty intriguing, but it just feels more like an animation test than an exciting narrative. The real weak link of the ShortsTV package.
Ice Merchants
Interesting fact: this is the first time a Portuguese film earned an Academy Award nomination. This follows a father and son who are ice merchants. They live in a cold house attached to a cliff and parachute down every day to sell ice to the townsfolk. Things go peacefully day by day, but sure enough, fate deals them a cruel hand.
Out of all the shorts, this was my favorite. And while I don't know if it will win, it definitely deserves to. Not only is this utterly stunning from a visual and sound perspective, but it has expert pacing and a powerful story that looks at family, the ever-changing world, climate change, and loss all at once. The final moments are simply brutal and stick in your mind well after the short ends.
It's great to see a film from Portugal get such accolades, and I can only hope it represents a more exciting future for Portuguese cinema.
The Boy, The Mole, The Fox, and the Horse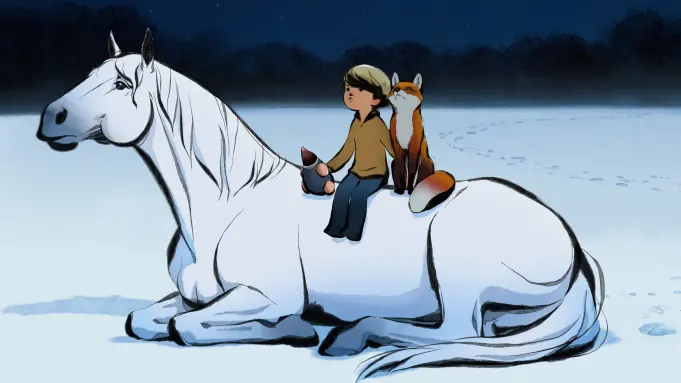 Based off the 2019 book of the same name, this follows the four titular creatures lost in the middle of the woods. The boy is looking to find a home and the animals travel with him so they can help that boy find the place where he belongs. All the while, they all develop a companionship and learn from one another about bravery, love, and kindness.
Of all the shorts, this is the most high-profile of the lot. It's based off a popular book, it has the backing of Apple and the BBC, features actors like Tom Hollander, Idris Elba, and Gabriel Byrne, and is produced by both J. J. Abrams and Woody Harrelson. Those two names in particular took me by surprise when this short ended.
And yes, it's got a lot to like. It has a very sweet, good-natured tone, great voice acting, a gorgeous storybook art style, and there's solid emotional pathos. But I'd be lying if I said I loved this one. I'm not even sure if I even liked this. What holds this film back is the dialogue. There's so many forced instances of the characters speaking profoundly the themes and ideas that it feels cloying and manipulative. Which granted this is aiming towards a younger audience than most of the other shorts, but the dialogue is so saccharine and schmaltzy that I was kind of rolling my eyes at several points as the characters try to out quote one another.
I can understand this being a favorite and perhaps younger kids will be entranced by it. But it was very frustrating that this was the longest one of the bunch. Sadly, this is the only short not available to watch for free, but it is available to watch at home on Apple TV+.
My Year of Dicks
Taking place in 1991, this follows the escapades of a 15-year-old girl in Houston desperate to lose her virginity. From there, we follow five stories all based around one idea in mind. This short was written by Pamela Ribon and based off her 2014 memoir Notes to Boys, and you can tell this was a personal piece in all the best ways.
The film does well in capturing the ideas of teenagehood and the desperation we all have in wanting our life to be like the movies themselves. This is all anchored by hilarious dialogue, a great rotoscope animation style that offers tons of creativity, and five distinct, memorable stories. The climax is predictable, but it doesn't distract from this engaging, Richard Linklater-esque story that's just a blast to go through.
This is free on Vimeo for a limited time, but you can also watch this on Hulu, since this is an FX production.