The American Dream is fruitless. This idea that a hard-working, confident immigrant can do great things through hard work has no basis on reality. Those who fall into this trap, more often than not, deal with stress and heavy sacrifice. Lee Isaac Chung's Minari, an autobiographical piece, is all about this folly. Specifically, it's on a father named Jacob, played by Steven Yeun. Uprooting his family from California to Arkansas, we follow Jacob's family as they struggle to deal with money, their crops, and each other.
What soon follows is perhaps one of the more somber, realistic films to come out in the past few months. It's a tale about family, the people in our lives, and how we impact one another. Sometimes it can be for good. Other times, it's all for nothing. Yet that's life. And Minari is all about life, in its confusion and splendor.
Not a Real Grandma
While Steven Yeun takes top billing and is an important part, he is not the main focus. Rather, the film revolves around a young Alan Kim as Jacob's son David. More specifically, his conflicting, confusing relationship with his grandmother, played by now-Oscar winner Youn Yuh-jung. The divide between them is a relatable one. David wants a more stereotypical grandmother, but his grandma, Soon-ja, is a bit wild and not exactly all there.
It could have been a trite or unlikable set-up, but Chung gives these two a heart and relatability. David isn't a rotten kid, but someone trying to deal with a weird situation. Soon-ja is in the same boat, and it's clear both are trying to find a happy medium. This also leads to some very humorous situations that are both hilarious and shocking all at once.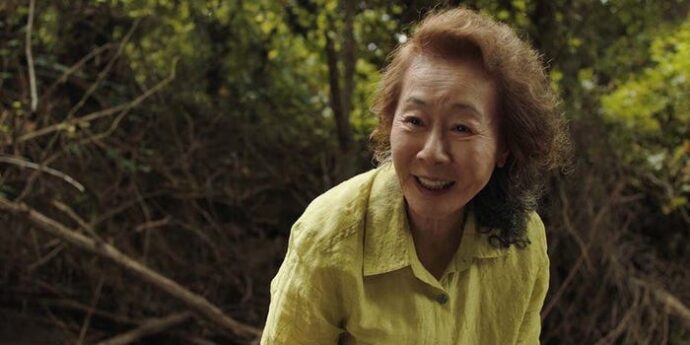 Really, the interactions between the two seems sincere and genuine. There is a love between them, even if it is muddled and confused. This applies to the rest of the film in fact. Jacob's desperation for his farm to succeed leads to explosive fights with his wife Monica, played by Han Ye-ri. It's hard to watch, but it is understandable and relatable. You feel their struggles and their love, even if it's due to complicated matters.
Truly, Lee Isaac Chung excels in making his family seem real, allowing the audience to be wrapped up in the situation.
The Best of the Midwest
This authenticity does not only translate to the characters. Indeed, the Arkansas landscape Chung has created is absolutely fantastic. Even if, technically, the film was shot in Oklahoma. The vast farmland is given scope and grace, while the community surrounding the Yis is full of life and personality. Whether it be the denizens in their town, the buildings they come across, or even just exploring the vast farmland, there's something exciting and entertaining about living in this world. At the same time, once again, it feels believable and realistic, as if we are following a real family's experiences.
Kudos in particular to director of photography Lachlan Milne. He knows just how to incorporate his environments and detail them in immense beauty. All the while, showing off a distinct sense of authenticity that doesn't glamorize these locations. Milne's talents are certainly impressive stuff.
To Sum Up…
Minari succeeds as a small-scale piece. Its entertaining script, memorable characters, and beautiful production values allow us to enjoy a compelling family drama. But most importantly, Lee Isaac Chung gives an authentic look loosely inspired by his own childhood, allowing us to see something personal and emotional. It's clear this man is a talent to look out for.
Read my other A24 reviews here