While the 1992 slasher Candyman was a hit, the film is somewhat overlooked. However, because of the film's strong fan following, a new movie makes perfect sense. Gentrification and underseen communities are sadly still an issue today. If anything, these issues are worse than ever compared to 1992. This leads to director Nia DaCosta reframing the Candyman mythos. Not a terror that represents the evil Black people face, but instead an antihero, a product from said evil.
DaCosta's film has a lot to say, and is directed quite well. DaCosta's film is also ambitious, tackling gentrification, racism, and Black art in a predominately white industry in just one movie. Yet because the film has so much to say, it suffers as a result. With only 90 minutes of film, Candyman is a rushed, convoluted work, that doesn't give the great ensemble a chance to shine. Yet when all is said and done, this flawed work still has plenty of creativity and style to still make it work. At the very least, this film likely won't have a strong consensus towards it, making it worth a watch if only to be in the conversation.
The Biggest Fear? What We Can't See
Nia DaCosta's film is gory and full of intense kills. Yet strangely enough, what is most terrifying here is what we don't see. Candyman very smartly hides the final blow. You still see the actual kills. These kills are creatively done and bring excitement and tension to the film. In particular, the film utilizes mirrors and a hidden Candyman to great effect, making the audience trick themselves at points. Yet for the final moments, those are typically offscreen or zoomed out.
These editing tricks may seem anticlimactic. Why hide the best parts of a slasher movie? Yet because of this creative decision, DaCosta allows viewers a chance to use their imagination. Nothing can be scarier than what you can imagine, which means the actual frights are even more impactful.
Outside of the horror elements, this is still a beautiful film, with memorable angles and smart creative decisions. One of the best aspects of the film is the utilization of haunting shadow puppetry. Rather than show clips from the 1992 film, the movie uses these puppets to create a memorable, folklore-style flair that gives the film personality and the Candyman mythos more depth.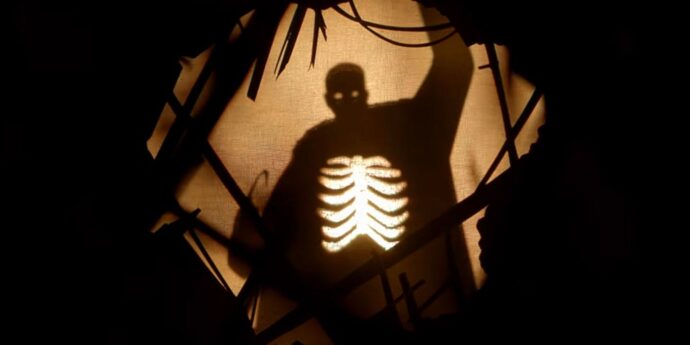 A Lot to Say
As for the movie itself, DaCosta's Candyman has a lot to say. Not just in terms of themes, but in how it reinvents the 1992 film. The titular monster is now a bit of a vigilante, going against the racist white citizens of Chicago who destroyed the city in the first place through gentrification. That shift brings so much intrigue and depth to the piece and it's one of the better aspects of the script.
Aside, there's a lot that Candyman looks to talk about. Gentrification, racial injustice, Black art, white gatekeepers, and the obsession people have to fit into our broken society, despite it killing us inside. It's all discussed here, and often with little subtlety. It's certainly ambitious, and the blunt execution really works well here. However, the dense storytelling is perhaps the movie's most fatal flaw. One that holds it back from the excellent work it could be.
Why 90 Minutes?
Candyman is a lean film, clocking in at 91 minutes. And while a complex film with tons of thought-provoking content can work well in that speed, Candyman sadly suffers. The screenplay is incredibly rushed, moving from place to place at rapid fire. This leads to many of the themes just being a germ of an idea, with little time to explore the nuances and mythology presented here. So many aspects of the film are underdeveloped, so it becomes hard to stay truly invested.
This sadly also causes the characters to be flat. Actors Yahya Abdul-Mateen II, Teyonah Parris, and Colman Domingo all shine in their respective roles. It really shows how all three are some of the best actors working today. But all of their character arcs are muddled, unengaging, and lukewarm. We are given little to no time to understand their personalities and wants, so it's hard to really feel sympathy for them. This becomes really bad once the climax reaches. The film suddenly stops everything for a bizarre action-heavy setpiece and we're supposed to care about three characters we know little about. With little set-up, there's little tension or drama to stay invested and it makes the film hard to stay engaged.
To Sum Up…
Candyman is a mixed bag. A decent slasher title that could have been something incredible. Yet the most crucial element of any movie, the screenplay and storytelling, is so underwhelming and sloppy that brings so much of the movie down. This is still fun enough and the elements that shine are truly spectacular. But within the current batch of films from Monkeypaw Productions, this is a bit of a disappointment.
Read my other reviews here